The Print Shop is pleased to now offer large format printing! Banners and posters!
At 30% to 50% off the cost to have them printed with an outside Vendor.
All jobs must be print ready in PDF or Publisher format.
Banners come in sizes of 3 Ft. and 5 Ft. wide by as long as you want!
Costs are determined by how much material and ink you use.
We are offering this to School Sites and their PTA's.
If banners have sponsors on them they must be approved before they can be printed.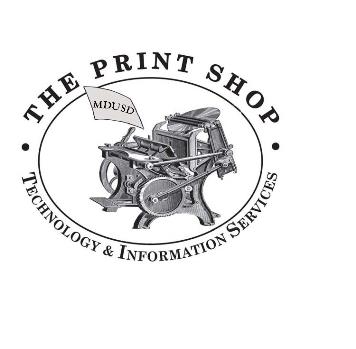 UPDATE 5/19/21
PRINT SHOP WILL KEEP WORKING HOURS AT 8 TO 4:30 FOR SCHOOL YEAR 21/22
UNTIL FURTHER NOTICE.
ALL ELEMENTARY TEACHERS, PLEASE SUBMIT ENGAGE NY ORDERS FOR TRIMESTER 1 NOW.
ALL ORDERS SUBMITTED AFTER AUG.1 WILL BE SUBJECT TO DELAYS BECAUSE OF THE BEGINNING OF SCHOOL.
SUBMIT TRIMESTER 2 AFTER THE FIRST WEEK OF SCHOOL AND 3RD TRIMESTER IN NOVEMBER.
Welcome to the Print Shop online Printing Order Form
REGISTRATION IS REQUIRED TO USE THIS ORDER SYSTEM!! CLICK ON THE REGISTRATION TAB AND FILL OUT ALL LINES AND SUBMIT, ALL LINES MUST BE FILLED OUT OR REGISTRATION WILL NOT BE COMPLETE, ONCE YOU'VE REGISTERED THE SYSTEM WILL SEND YOU AN APPROVAL E-MAIL, IF YOU ARE AT A SCHOOL SITE YOUR ADMINISTRATOR WILL REGISTER YOU AFTER YOU HAVE SUBMITTED YOUR APPLICATION, AFTER YOU HAVE BEEN APPROVED BY ADMINISTRATOR YOU WILL BE ABLE TO SUBMIT JOBS.Returning customers click-log in Enter user name and password then hit Log In.The home page will say Welcome Back, Your first name will be in the upper left hand side. You can now submit your orders.
PRINT SERVICES LIST
1.Copying: Large printing jobs have a 5 to 7 day turn around, You can submit work with later due dates, We do appreciate you giving us even more time to complete jobs if possible, We do offer Quick Copy option this will be for small classroom sets that are single sided or front to back either uncollated or with a simple staple option only!!! These jobs will be turned around in 48 Hrs. or less, all other jobs will be on the 5 to 7 day schedule Again we would appreciate it if you could schedule your jobs accordingly as to give us enough time to complete all jobs for all school sites in the district in a timely manor, any more time than 5 to 7 days is greatly appreciated.

2. Printing: Offset presses are used to meet large printing jobs, Carbonless, Letterhead and Envelopes.
3.Folding: Have your documents folded. We offer various types of folds.
4.We do offer folding and stuffing services, you can send your letters,report cards,absence letters and truancy letters via job ticket or e-mail and if you can also send us a excel file with names and addresses we can print them on your letter and fold and stuff so it shows thru window (no more making labels)
5.Drilling: We have the capability to drill from a single hole to three holes anywhere on your document.
6.Transparencies: We can copies 8 1/2 x 11 transparencies.
7.Cutting: We can cut from 2" x 3" to 25" x 25".
8.Bindery: We can bind your document with a variety of options, comb binding, tape binding, coil binding and various types of staple options.
9. Laminating. only 8.5 x 11 and 8.5 x 14 and 11 x 17 Pricing available on request.

Tom Sullivan
Print Shop Supervisor
Mt. Diablo Unified School District
sullivant@mdusd.org
(925) 682-8000 ext 4021
PRINT SHOP HOURS OF OPERATIONS
Monday Thru Friday 8:00 A.M. To 4:30 P.M
Types of materials printed by The Print Shop:
Assessment materials Letterhead Banners, 3-FT. and 5-FT wide.
Booklets NCR Forms Large Format Posters Up to 5 Ft.
Brochures Notepads Wide.
Business Cards Postcards
Envelopes Posters
Flyers Programs
Instructional materials Thank You Cards
Laminating: (Not shown on the ordering form) just write in the special instructions that you would like the sheets to be laminated and we will add the cost to the job ticket. We only laminate 8.5 x 11 or 8.5 x 14 and 11 x 17
pricing available on request
New Online Instruction Ordering Guide
Go to MDUSD.ORG / STAFF PORTAL / PRINT SHOP
And the Blue links on the right under register now.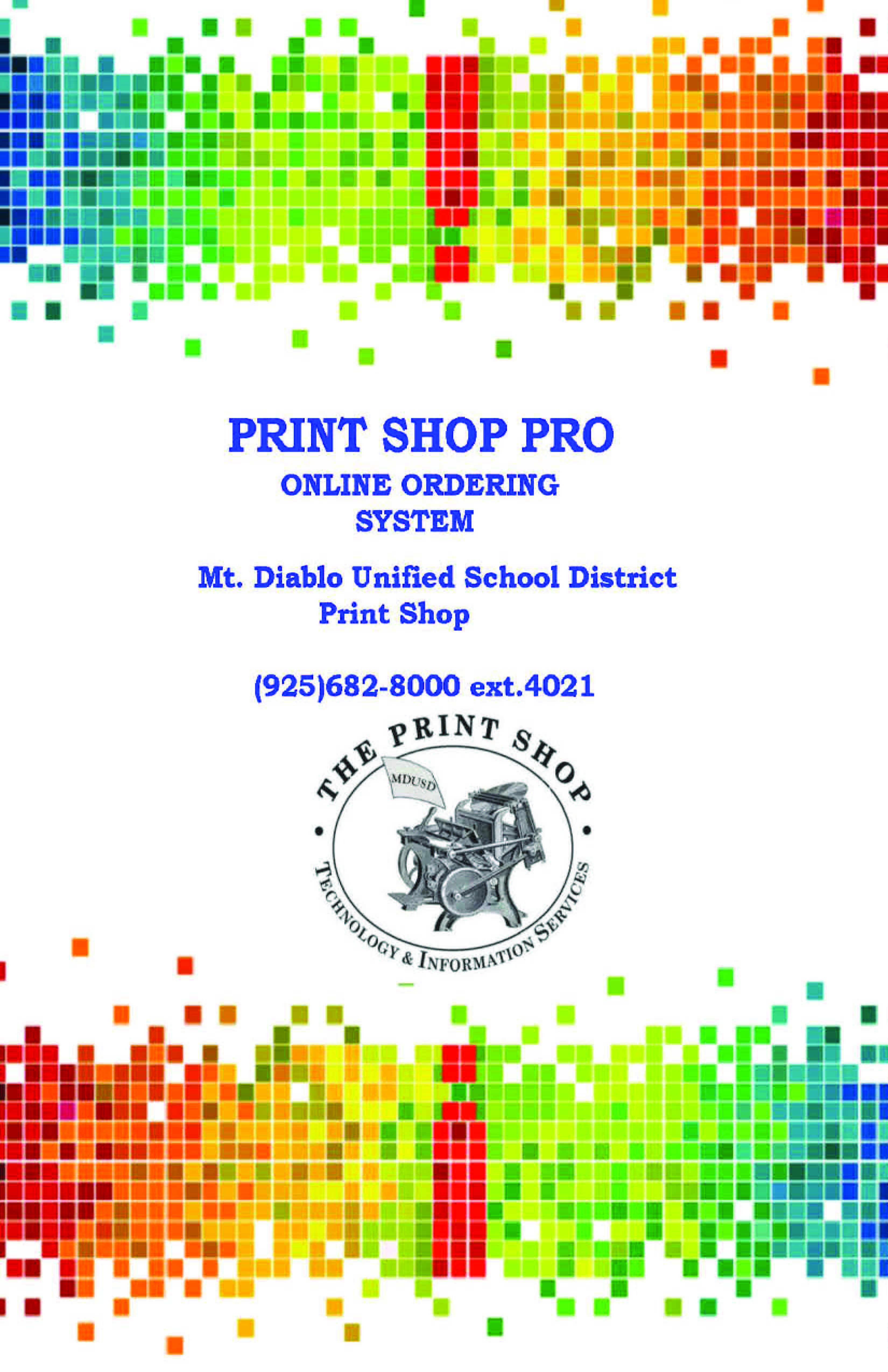 ---